The Gibson ES-295 is a Rockabilly legend! However, the ES-295 is also extremely suitable for Jazz, Roots and Rock & Roll. As you may all know, Rock'n'Roll legend Scotty Moore played with an ES-295 in the early Elvis years. The story goes that he traded in his Fender Blackguard for the ES-295 in 1953. Later Scotty played with even bigger hollow bodies like the Gibson L-5CESN and the Super 400-CESN. Still, most people remember Scotty with his ES-295.
"To me, a hollow body is the sound of wood making music. A solid body is the sound of an amp."

– Scotty Moore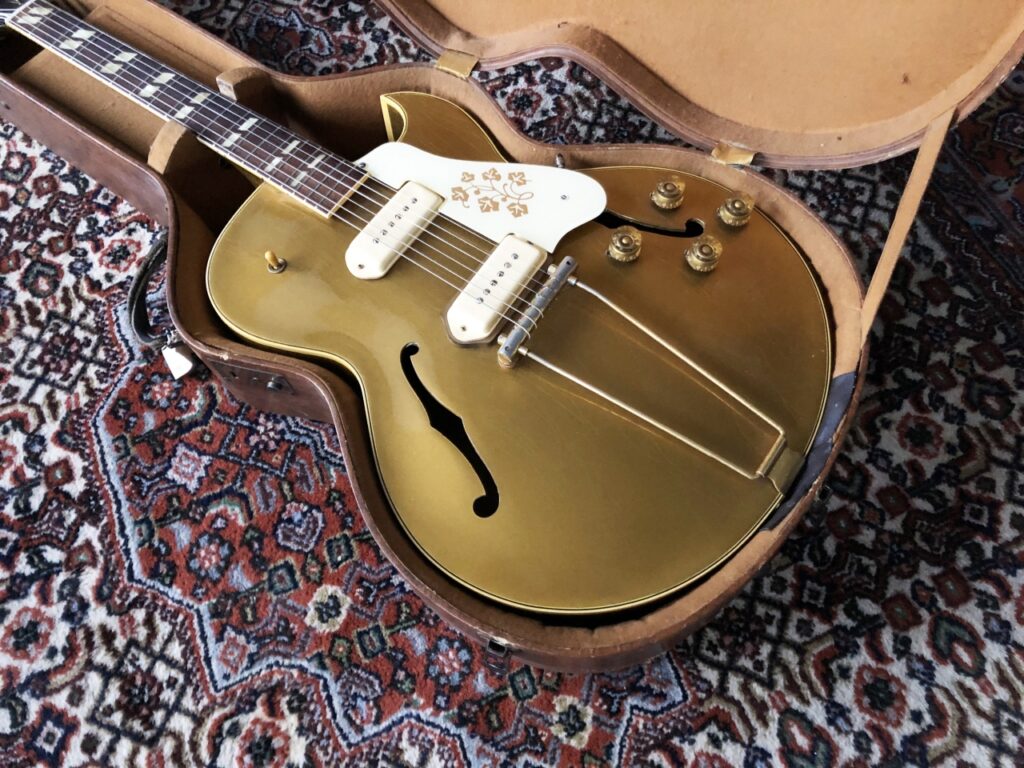 The first prototype
In 1951, Les Paul and Mary Ford paid a musical visit to Milwaukee's Wood Hospital, a hospital for wounded veterans. Les Paul and Mary Ford dragged their amps and guitars from room to room to cheer up the wounded veterans.
In one of these rooms they encountered veteran Dean Davis. He told them that he was also a guitarist, but that he was paralyzed on one side due to a brain tumor. Les Paul told him it was possible to play with one hand, after which he asked Dean which song he would like to hear. Dean said he wanted to hear "just one more chance". Les Paul walked over to his amp and cranked up the volume, then played "just one more chance" with just one hand. Tears of happiness ran down Dean Davis' face.
To cheer up Dean Davis, Les Paul told him he would have a guitar made for him to Dean's specifications, who said he wanted a gold archtop. After the visit, Les Paul learned from a doctor in the hallway that Dean Davis was terminally ill and likely had less than a week to live. Les Paul immediately called Ted McCarty and said he needed a guitar ASAP; "grab an ES-175 and spray paint it gold". Ted got to work and would send the guitar straight to the hospital.
Despite the good intentions, the veteran never saw the guitar. Dean died shortly after the visit of Les Paul and Mary Ford. Dean's wife received the guitar and returned it with a letter that Dean had passed away.
The differences with an ES-175
Both the ES-295 and ES-175 have a 16" laminated maple body, double parallelogram inlays and a Florentine cutaway. Basically, they are very similar, but there are a number of important differences.
In 1952 the ES-175 was only available with one P-90 pickup (from 1953 with 2 P-90s). The ES-295, on the other hand, was equipped with two P-90 pickups. The P-90 covers were ivory colored, as this contrasts nicely with the gold colored paint and hardware.
The tailpiece is also different. The ES-295 features a gold trapeze bridge instead of a diamond tailpiece with rosewood bridge. The cream-colored pickguard, finished with a "gold floral design", is also much more elegant / luxurious on the ES-295.
The quest
After seeing legends like Scotty Moore, Danny Gatton and Little Charlie Baty with an ES-295 I was sure; I must have an ES-295! After trying several vintage Gibson ES-295s, I finally found one through a good connection.
The example I found has been in storage for 30/40 years. The condition of this guitar is therefore amazing! And just like Scotty Moore's ES-295, my example also comes from 1952, the first year of production of this classic. In terms of serial number, it is also not very far from Scotty's! Quite special, knowing that only 297 ES-295s left the Gibson factory in 1952.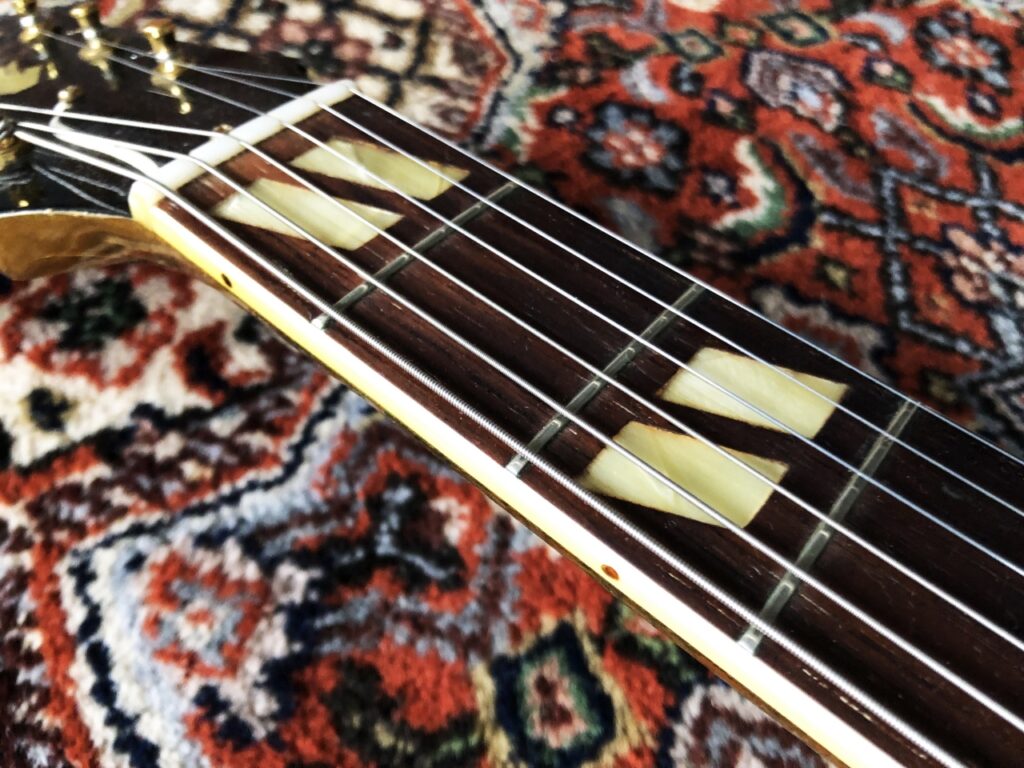 This vintage Gibson ES-295 is not for sale, but do you want to find your dream guitar just like me? We can help you find your dream guitar!