Hank Williams is a name that needs no introduction. Three generations left their marks on country legacy. Hank Williams Sr. was a true legend whereas Hank Williams Jr. earned his marks with songs such as 'A Country Boy Can Survive' and 'Family Tradition. To have a guitar in my collection that was part of this family would be a dream come true for me.
Some time ago I was interested in two Kalamazoo instruments. The seller told me that he also owned a rare Martin that he possibly would like to sell. It was a 'one-off' Martin D35S from 1968. If you follow my website you probably can guess that I was more than interested. The Martin D-35S itself is namely already a rare guitar (only 1831 produced), and I was very curious to find out what made this guitar even more special.
It turns out that this Martin was ordered by Hank Williams Jr. Hank did not like the slotted headstock that was standard for this model so he requested Martin to build a D35S with a solid headstock. The guitar has been in the possession of Hank Williams Jr. for many years until he decided to sell the guitar in 1995. Before it was sold it stood in the Family Tradition Museum of the family Williams in Paris, Tennessee. The trained eye can spot the guitar in the documentary 'Hank Williams Jr. Full Access'.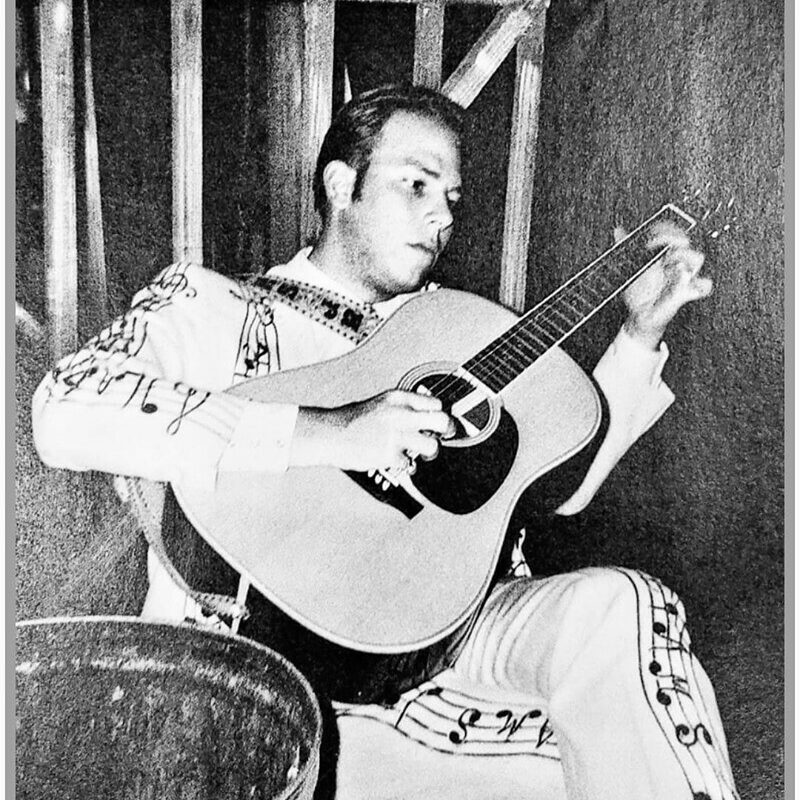 George Gruhn was the intermediate for the sale. The new to be Dutch owner was not able to come to America so he asked Barry Tashian (member of Emmylou Harris Hot Band) to take the guitar to Europe. There is lots of documentation to support the story. Hank even sent a signed letter to Gruhn, provided with the guitar, in which he states how much the guitar has meant to him. On top of that a rare photo of Hank is included hugging the guitar in front of the shop of Gruhn. 
If you look past the story you can see that this guitar is a magnificent piece of work. Hank Williams Jr. only wanted the best and this Martin is definitely one of the best. In his letter Hank mentions that he hopes the next owner will enjoy the guitar as much as he did. With a guitar like that, that should not be a problem. The guitar does have some buckle wear, but knowing where that came from it only adds to the charisma of this instrument. 
For me personally, finding a guitar like this is one of the highlights of my career so far in the world of vintage guitars. Keep tuned on Instagram and my website and who knows, my next find might be your dream guitar.