Browse our selection
of vintage guitars
The Guitar Company buys and sells high-end guitars
with clear and transparent agreements
We buy vintage guitars, ukuleles, banjos, lap steels, mandolins and more.
We are always on the hunt for special vintage instruments to add to our collection. We are also interested in vintage amplifiers, guitar parts, cases and other accessories.
Further reading for the
curious mind.
My main guitar, along with the Gibson ES-350, is a Gibson ES-300 from 1947. The ES-300 is equipped with a Bigsby and an ABR-1 bridge. Both from the sixties.
LEES MEER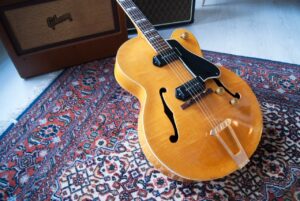 People who know me are aware of my love for vintage hollow body guitars. I always wanted to own a Gibson ES-350 Natural from 1952.
LEES MEER
One of the great things about a vintage guitar is the story behind the instrument. This is also the case with this vintage 1958 ES-225TDN.
LEES MEER